The beatitudes
January 12, 2021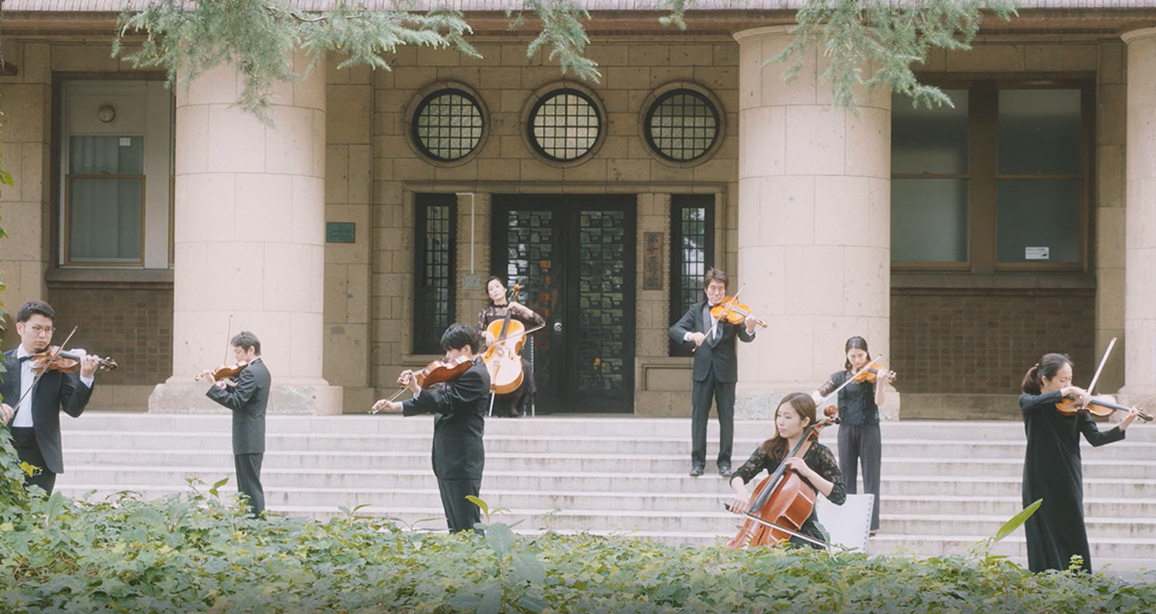 UTokyo Komaba Research Campus Open House held in June every year was canceled for 2020 due to concerns over the spread of the COVID-19.
Instead of the on-campus event, we have established "Virtual RCAST Open Campus," a website of the Research Center for Advanced Science and Technology (RCAST), which provides content centered on our research activities. We hope that you will enjoy the website.
Regretfully, RCAST's Special Concert, which started two years ago and has since become one of the popular campus attractions, did not take place either. Wishing to entertain you with their music performance online instead, some musicians scheduled to participate in it got together this year at RCAST with other musicians and made recordings with measures taken against the pandemic. We have created a video, putting together their music and moving images of our campus and hope you will enjoy their wonderful performance aurally and visually. We all look forward to the day when we will see you again at our campus and entertain you with the concert there.
About "The Beatitudes"
Remote, virtual, and other methods of communication have now been widely used due to the COVID-19 crisis. This is a new way of communication using technology. We now seem to communicate online more frequently than face-to-face. An online class at college is one of the examples. And in the world of art, we have tried various methods, such as remote orchestras and webcast concerts in an effort to meet the expectations of people who wish to listen to or deliver music. Though technology advances day by day, there is still something that only real life can offer. We believe it is very important to think of what to care about and how to combine the world of technology and the world of real life while continuing to try out new things.

Vladimir Martynov's The Beatitudes was performed by a string octet uniquely comprising a live string quartet and a prerecorded string quartet—an intriguing ensemble of a live performance in "real life" and a performance recorded using "technology." On the video, eight people appear to be performing in the same space. This is literally a combined performance of a visible quartet and an invisible quartet.

Following a quiet introduction evoking a sense of silver lining, the recorded music becomes fused with a live music, repeatedly weaving a soft tapestry of melodies with the addition of subtle variations as if speaking deeply into your soul.

And at around the point of the golden ratio of the music piece—the artistic golden ratio exists in time as well as in visual space—when a video of the clock tower taken with a camera circling around above it in the sky is on the screen, the recorded music playing a leading role and the live music taking a supporting part start to perform a melody together and finally reach the climax. The two are fused into one, generating a "new development" and the music ends leaving you feel as if the euphoria will last forever, which cannot be realized with "technology" or "real life" alone. We sincerely hope that, through this music, you will feel the beauty of each play and a new experience brought by the fusion and think about the beautiful future that's awaiting you.
Kaoru KONDO

Program
Vladimir Martynov
The Beatitudes
---
1st VIOLIN [Live]Shunichiro FUKUDA
2nd VIOLIN [Live]Karen KIDO
VIOLA [Live]Masayoshi FUJIMURA
CELLO [Live]Misaki KUROKAWA
1st VIOLIN [Rec]Kaoru KONDO
2nd VIOLIN [Rec]Fumi KOSEKI
VIOLA [Rec]Hironori NAKAMURA
CELLO [Rec]Rinako YAGUCHI
---
Sound Recordist / Sound Produce
Ken MURAMATSU (Octavia Records Inc.)
---
Produce cooperated by
Octavia Records Inc.
TOKYO VIDEO
---
Producer
Kaoru KONDO, Project Researcher, Advanced Art and Design