Project Associate Professor Satoshi OHARA received Technical Award of the Society for Biotechnology, Japan
2019/9/27
Project Associate Professor Satoshi OHARA(Renewable Fuel Global Network) was awarded Technical Award of the Society for Biotechnology, Japan on September 16, 2019.The Society for Biotechnology, Japan aims to contribute to the development of bioscience and bioengineering. This award recognizes outstanding contributions to industrial research and development in the field of biotechnology.
Project associate professor Ohara developed an innovative process to produce sugar and ethanol called "Inversion process".
This is a process that reverses the conventional sugar and ethanol production sequence using selective fermentative yeast, in which ethanol is produced first, followed by sugar recovery. Sugar production can be increased by 1.5 to 2 times.
"In order to reduce CO
2
emissions through the use of renewable fuels, we would like to expand our technology to the world in combination with renewable energies such as solar and hydrogen," says project associate professor Ohara.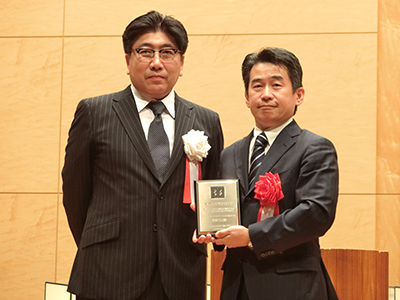 Project associate professor Ohara (right)
The Society for Biotechnology, Japan