Researcher's Profile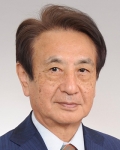 Adviser
Tohru IFUKUBE
RCAST Adviser
E-mail

ifukubehuman.iog.u-tokyo.ac.jp
Tel

03-5841-1524
URL

researchmap
Biography
| | |
| --- | --- |
| March 1971 | M.S. in Electronics, Hokkaido Univ. |
| October 1971 | Assistant Professor, Research Institute of Applied Electricity, Hokkaido Univ. |
| April 1984 | Visiting Associate Professor, Stanford Univ. |
| April 1989 | Professor, Research Institute of Applied Electricity, Hokkaido Univ. |
| July 2002 | Professor, RCAST, The University of Tokyo(UTokyo) |
| May 2007 | Emeritus Professor, Hokkaido Univ. |
| 2009 | Emeritus Professor, UTokyo |
| April 2011 | Reserch Fellow, Institute of Gerontology, UTokyo |
| 2015 | Professor, Hokkaidou University of Science |
| April 2020 | Adviser, RCAST, UTokyo(Tojisha-Kenkyu) |
Research Interests
For about 50 years, he has pioneered the field of assistive technology to support the disabled and the elderly, has constructed a research methodology that circulates basic science of psychophysiology and applied technologies such as virtual reality and robots, and has led the most assistive devices to practical use.The main devices designed based on the research methodology are listed below: ① for the hearing impaired ,"Tactile vocoder", "Voice typewriter", "Cochlear implants" and "Speech captioning systems", ② for persons with speech disabilities, "Artificial larynx" and "Talking smartphone by a finger", ③ for the visually impaired, " Ultrasonic Eyeglasses"," Screen reader (95 reader) " and " Tactile jog dial (Tajoda) ". Some devices have been applied to advanced technologies such as virtual reality and robotics.
From 2010 to 2010, he is leading an industry-academia collaborative research as a program officer(PO)of JST (Japan Science and Technology Agency)'s national project "Creation of science, technology and systems that enriches the aging society". This project consists of three issues: "Autonomous driving intelligent systems", "Job matching platforms (Elderly Cloud )" and "Life support communication robots", and it is currently in the industrial and business stage.
In addition, at the request of NHK, he composed an "Earthquake Early Warning Chime" that is easy for the hearing-impaired to hear, having contributed to disaster prevention for the elderly as well as people with disabilities. With such background and achievements, he is expected to contribute from a technical standpoint to the research of the "Inclusive Design Lab" that has been underway at RACST since 2020.
Related Articles