Researcher's Profile
Professor
Takehisa YAIRI
Artificial Intelligence
E-mail

yairig.ecc.u-tokyo.ac.jp
URL

2022 Research Book (PDF:1.3MB)
Biography
| | |
| --- | --- |
| March 1999 | PhD, School of Engineering, The University of Tokyo (UTokyo) |
| April 1999 | Research Assistant, RCAST, UTokyo |
| July 2001 | Research Assistant, School of Engineering, UTokyo |
| April 2003 | Lecturer, School of Engineering, UTokyo |
| March 2004 | Lecturer, RCAST, UTokyo |
| November 2006 | Associate Professor, RCAST, UTokyo |
| April 2009 | Associate Professor, School of Engineering, UTokyo |
| March 2019 | Professor, School of Engineering, UTokyo |
| April 2019 | Professor, RCAST, UTokyo |
Research Interests
While deep learning is attracting much attention these days, we are especially interested in unsupervised learning, which is one of main topics in machine learning research. An important purpose of unsupervised learning is to reveal latent structures or patterns such as clusters and low-dimensional intrinsic subspace behind the big data and to model the mechanism of the data generation.
We are also studying on algorithms of learning dynamical systems (LDS), which aims at identifying mathematical models of natural and artificial dynamical systems from observation data. Obtained models can be utilized for control and prediction of those systems. This topic is closely reated to control engineering as well to machine learning.
Furthermore, we are applying these techniques to health monitoring and anomaly detection of large-scale artificial systems such as artificial satellites and plants. The goal of our study is to make the world safer and more secure by these technologies.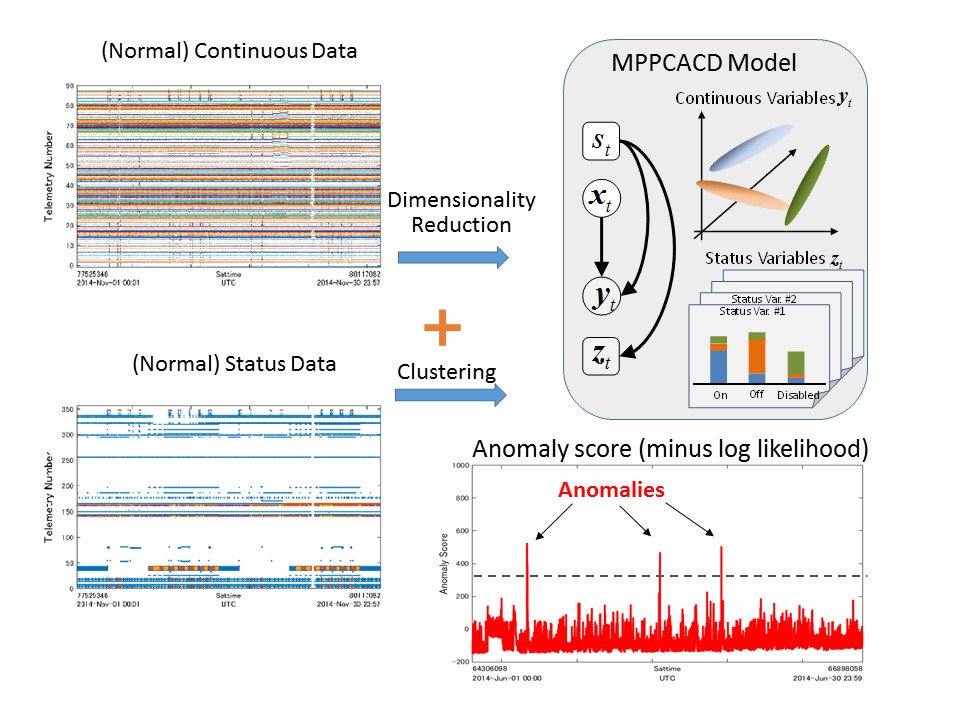 Keywords
artificial intelligence, machine learning, anomaly detection, fault diagnosis, probabilistic reasoning, learning dynamical systems
Related Articles