Light is "clean," exceptionally easy to control, and possesses high levels of energy. At the Hashimoto lab, researchers aim to design and create new functional materials that make use of these special qualities of light as well as photochemical reactions.
The investigation of photocatalytic materials has been a major theme of Professor Hashimoto's research. Since around 1990, the lab has advanced the development of practical applications for these materials through various studies and collaborative efforts, and has successfully developed various products that employ these materials. One such product is the "photocatalytic sheet," a soil purification system that utilizes the special properties of titanium oxide photocatalysts.
While Achieving Practical Applications, A Respect for Basic Science
The process of creating products has helped Professor Hashimoto to develop a newfound appreciation for the importance of investigating fundamental phenomena through a theoretical, academic approach to research in physics and chemistry. He is currently devoting himself to basic research on titanium oxide itself and functions that increase its activity, as well as the development of new supersensitive, high-performance materials other than titanium oxide.
Toward the Development of Environmental Cleanup Technologies
The photocatalytic products that Professor Hashimoto has developed so far have self-cleaning qualities-in other words,they don't pollute the environment. Now he is working to develop materials that will purify the environment or reduce the environmental burden.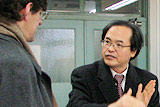 For example, developing materials for soil contamination-in collaboration with the New Energy and Industrial Technology Development Organization (NEDO)-contributes to the alleviation of urban warming and the creation of energy-saving systems. He expects that his joint effort with the city of West Tokyo to create materials that purify soil contaminated with volatile organic chemicals will lead to the detoxification of contaminants.
Developing Deployment Models for Environmental Technology
The University of Tokyo is also marketing the previously mentioned photocatalytic sheet. The product contains activated carbon and photocatalysts, and was developed to utilize sunlight to purify soil contaminated with volatile organic compounds. A practical test of the photocalytic sheet is now underway at an actual polluted site in West Tokyo.
On the other hand, cut down to a smaller size, the sheet is becoming known through its being sold as a deodorant for refrigerators in a household setting. What is unique about this sheet is that once it has absorbed an odor, it can be reused after being set out to dry in the sun. Until now spent activated carbon has been discarded as trash, but the photocatalytic sheet can be recycled in the home. For environmentally-oriented products to be widely used, it is important to come up with "deployment models for environmental technology," or ways for people to use the products in their daily lives. The convenience of being able to dry the sheet together with the laundry enables people to use the product over and over again.
Heading:Young Graduate Students (Masters/Ph.D) and Homemakers as Primary Researchers
The university is a place for nurturing talented researchers and engineers. Publishing papers and applying for patents are some of the fruits of our research, but simply producing these results is not an appropriate research goal.
Homemaker researchers are participating in research activities to develop "deployment models for environmental technology." Their perspective is essential for developing deployment models that allow everyone to participate in environmental improvement.

Students at Tokyo University are expected to cultivate their research skills through their own daily research activities. My duty as an educator is to transfer the university's research capabilities to the students.
Interviewer:Tamane Ozeki
(November 16,2005)