Patents and other intellectual property rights represent an acknowledgment of the exclusive right of the developer of a technology to make a profit from that technology in return for making it available to society. This kind of intellectual property system aims to advance the general level of technological development in society, and has traditionally been discussed in the context of domestic industrial policy and in terms of its legal and industrial policy aspects.
However, it is predicted that debate taking into account not just domestic but also world economic growth will intensify, and the question has arisen as to the ways in which Japan can take the initiative in this area.
The Significance of Intellectual Property for Developing Nations
In recent years, concern has been growing that the exclusivity of intellectual property rights is an obstacle to environmental, medical and economic improvement in developing nations. An example of this is the problem of HIV.
Until early 2000, it was extremely difficult for HIV/AIDS sufferers in East Asia and Africa to obtain medicines, such as antiretroviral treatments, which had been developed in developed nations. This is known to be because exclusive rights attaching to the patents for these medicines resulted in extremely high prices. However, in December 2005, under the WTO (World Trade Organization, the successor to the GATT) Ministerial Conference's 'Doha Ministerial Declaration on the TRIPS (Trade-Related Aspects of Intellectual Property Rights) Agreement and Public Health,' a limit to patent protection was adopted, opening the way for some developing nations to obtain cheaply priced medicines.
The establishment of the WIPO Japan Office: Dispatching Top Quality Research from Japan to the world

Thus debate about intellectual property, based upon social realities such as human rights, the environment, culture, health and poverty, is intensifying within international organizations such as the World Trade Organization (WTO, formerly GATT), and the World Intellectual Property Organization (WIPO). Furthermore this issue is increasingly becoming the topic of political debate as well.
With this in mind, the WIPO Japan Office was established, with Allan Roach as its first Director. At this Japanese office, government, the private sector and researchers will go beyond national boundaries, joining forces to conduct research into the kinds of international models and laws conducive to international economic development. Many Japanese intellectual property researchers will participate in research that contributes to the world economy, and the WIPO Japan office is expected to provide an opportunity for Japan to increase its presence in this field.
The Need to Establish Japan's Own Vision
Meanwhile, it is becoming increasingly necessary that Japan move beyond viewing this issue in terms of business interests, and establish its own identity, philosophy and vision as a nation with regards to the various issues facing the international intellectual property regime. The June 2006 'Intellectual Property Strategic Program 2006' released by the Intellectual Property Strategy Headquarters established a forum for inter-ministerial cooperation, indicating that the need to tackle these issues is being taken seriously at the government level. However, it is also necessary that academia (including the Tokyo University Research Center for Advanced Science and Technology) make a positive contribution to tackling the problem as well.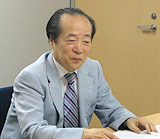 In the debate about legal interpretation and system reform, the respective interests of the broad range of industries involved, such as IT and the pharmaceutical industry, vary depending upon their standpoint. However, as mentioned earlier, the turn towards international cooperation is well underway, and it is becoming increasingly necessary to take worldwide economic considerations into account even when establishing domestic systems in Japan. The current situation, therefore calls for the rational and neutral voice of academia, and the scholarly community has a vital role to play.
Interviewer:Tamane Ozeki
(August 4, 2006)