Researcher's Profile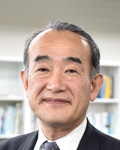 Senior Research Fellow
Masahiko HIRAO
E-mail

hiraochemsys.t.u-tokyo.ac.jp
Tel

03-5452-5090
URL

2022 Research Book (PDF:1.1MB)
Biography
| | |
| --- | --- |
| March 1987 | Completion of Doctoral Program, Graduate School of Engineering, The University of Tokyo (UTokyo) |
| April 1987 | Reserch scientist, Advanced Research Laboratory, Hitachi, Ltd. |
| March 1989 | Doctor of Engineering, UTokyo |
| September 1994 | Resercher, Central Research Laboratory, Hitach, Ltd. |
| February 1995 | Senior Resercher, Central Research Laboratory, Hitachi, Ltd. |
| January 1996 | Lecturer, Graduate School of Engineering, UTokyo |
| January 1999 | Associate Professor, Graduate School of Engineering, UTokyo |
| April 2006 | Professor, Graduate School of Engineering, UTokyo |
| April 2022 | Professor, RCAST, UTokyo |
| April 2023 | Senior Research Fellow, RCAST, UTokyo |
Research Interests
Identifying future technologies through life cycle assessment to transform consumption and production patterns
Preparation for Establishment of UTokyo LCA Center for Future Strategy
We are preparing to establish " UTokyo LCA Center for Future Strategy", to promote effective collaboration and to contribute to the future of humanity and the planet as one of the UTokyo Future Society Initiative SDGs Projects. The organization will develop a new scientific principle, " Pre-emptive Life Cycle Assessment(LCA). " Pre-emptive LCA evaluates the impacts of advanced technologies in the future and contributes to developing future strategies at present. The Research Center for Advanced Science and Technology will play a central role in establishing, implementing, and deploying Pre-emptive LCA in collaboration with LCA-related researchers and research groups on advanced technology inside and outside of UTokyo, companies, governments, and NPOs. We will support the evaluation of technologies, the development of effective strategies for implementing future technologies, and science and technology policy-making. We also aim to develop human resources who can contribute to the development of advanced technology by practicing Pre-emptive LCA.
Evaluation of the social value of new technologies and new materials
In order to realize a sustainable society where the environmental burden is contained to one planet, and the wellbeing of people and society is achieved, it is necessary to change the consumption and production patterns as a social system. To this end, many technologies are being studied and developed to solve problems. The social value of new technologies and new materials will be clarified through life cycle assessment.
Sustainable social systems design
While assessing the social value of new technology, we design a social system in which the technology can be implemented and demonstrate its value. For example, in the case of plastic recycling, in addition to the implementation of recycling technology, it is necessary to design a system integrating hardware and software aspects. Sub-systems for collecting and transporting used products, supporting producers and consumers, and an economically viable system must be included. In particular, we believe that strengthening the linkage between consumption and production will be of utmost importance. We will build a framework that integrates diverse perspectives such as the provision of information from production to consumption, pro-environmental behavior of consumers, new business models such as sharing, understanding of local needs, utilization of traditional wisdom, and the construction of social infrastructure to support these efforts.
Fig.1. Product and process design by Integration of product life cycle and process life cycle
Fig.2. Social transition toward sustainable consumption and production patterns
Fig.3. Five Collaborative Approaches to Transition to Sustainable Consumption and Production Patterns
Award
May 2002 Society of Environmental Toxicology and Chemistry, Best Poster Award
2006 Process Safety and Environmental Protection, Most Cited Author Award
2008 Journal of Chemical Engineering, Japan, Outstanding Paper Award
2011 Japan Society of Material Cycles and Waste Management, Best Paper Award
2014 School of Engineering, The University of Tokyo, Best Teaching Award
March 2017 The Society of Chemical Engineers, Japan, Award for Outstanding Research Achievement
Keywords
Life cycle assessment, Process systems design, Social systems design, Support for Pro-environmental consumer behavior
Educational Systems
Department of Chemical System Engineering, Graduate school of Engineering
Department of Advanced Interdisciplinary Studies, Graduate school of Engineering
Related Articles