Researcher's Profile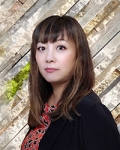 Project Associate Professor
Shinobu ITO
Advanced Art Design Laboratory
Advanced Art Design
E-mail

shinobuitoaad.rcast.u-tokyo.ac.jp
Biography
| | |
| --- | --- |
| March 1988 | Tama Art University, Bachelor of Textile Design, Faculty of Art and Design |
| April 1988 | Designer and Planer at SONY CREATIVE Inc. (CBS SONY) |
| December 1996 | Domus Academy, Master of Design, Design Direction(Milan, Italy) |
| November 2002 | Founder, STUDIO ITO DESIGN / Setsu & Shinobu ITO Design Studio (Milan) |
| June 2002 | Adjunct Professor, Domus Academy |
| October 2007 | Advisory Board Member of JAPAN BRAND Development Assistance Program of The University of Toyama and Toyama Chamber of Commerce and Industry |
| April 2013 | Advisory Board member of the Japan Fashion Color Association |
| September 2014 | Adjunct Professor, Politecnico di Milano, School of Design |
| November 2016 | Member of ADI (Italy) |
| October 2017 | Adjunct Professor, Raffles Milano Istituto |
| January 2018 | Visiting Researcher, RCAST, The University of Tokyo(UTokyo) |
| April 2018 | Visiting Professor, Tama Art University |
| February 2021 | Project Associate Professor, RCAST, UTokyo |
Research Interests
What we designers can do to achieve a Sustainable Society ?
The key is in "Nature". Design research based on the Zen teachings of reverence for living things and the innate Japanese view of nature. Design that is sustainable yet mutable, that constantly breathes new life into natural materials that have life in them. Material process and design that creates new value by designing the production process based on the characteristics of each material. We will focus on design that utilizes post-natural materials, which are created by secondary processing of limited natural materials.
There are many points to keep in mind when designing for a sustainable society. Being able to regenerate, using recycled materials, using natural materials, collaborating with the environmental energy field, cooperating with the biotechnology field, avoiding wasteful production, making people happy at low cost , Supporting the work of people in remote areas and third countries, considering health care, improving eating habits, improving living environment, improving educational environment, etc. From these perspectives, we will continue to experiment and research designs for a Sustainable and Inclusive Society.
The development of science and technology has made the world more convenient, but sometimes it also makes people feel uneasy. On the other hand, craftsmanship has an element of reassurance, even if it is the same technology. What is the healing power of craftsmanship, and what is the sense of security that comes from history and tradition? In the midst of social unrest caused by historically recurring pandemics, the Great Depression, and environmental problems, it is desirable to integrate science and technology with craftsmanship in design. I think it is important to try to unearth unexpected creativity by equating the relationship with nature and traditional methods with the same starting line of science and technology.
STONE FOREST / Errebi Marmi 2019(Italy)
MY FUSION Tableware Collection / Guzzini 2016 -(Italy)
AU Sofa / Edra 2003(Italy)
Award
September 2019 Mastro d'arte della pietra(Italy)
2018 Good Design Awards(USA)
April 2018 Milano Design Week Award Best Playfulness(Italy)
2017 NY NOW Best Product(USA)
April 2016 Fuori Salone BEST ENGAGEMENT(Italy)
February 2016 JPC Japan Package Design Award(Japan)
September 2015 RED DOT Award Best of the Best(Germany・Singapore)
September 2015 DESIGN PLUS Award(Germany)
July 2011 XXII Premio Compasso d'Oro(Italy)
July 2011 XXII Premio Compasso D'Oro ADI Menzione d'Onore(Italy)
January 2008 Interiorlifestyle Tokyo Award(Japan)
November 2001 The Toyama Product Design Award(Japan)
October 2001 The Good Design Award(Japan)
Keywords
Sustainable Design, Traditional technology and design created by hands and communication, Desing for Region Co-Creation, Mutant Active Design
Links
Setsu e Shinobu Ito: il marmo è bellezza [Design Diffusion]

Related Articles