Researcher's Profile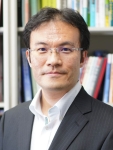 Associate Professor
Masahiro NOMURA
Micro Device Engineering
E-mail

nomuraiis.u-tokyo.ac.jp
Tel

03-5452-6303
URL

2021 Research Book (PDF:1.8MB)
Biography
| | |
| --- | --- |
| March 2005 | Ph.D., School of Engineering, The University of Tokyo (UTokyo) |
| April 2005 | Project research associate of industry-academia-government collaboration, Institute of Industrial Science, UTokyo |
| April 2007 | Project research associate of Japan Science and Technology Agency, Institute for Nano Quantum Information Electronics, UTokyo |
| April 2008 | Project research associate, Institute for Nano Quantum Information Electronics, UTokyo |
| October 2010 | Associate Professor, Institute of Industrial Science, UTokyo |
| August 2020 | Associate Professor, RCAST, UTokyo |
Research Interests
Recent interest in advanced thermal management technology is increasing due to the expectation for solving heat dissipation problems in various optical and electronic devices, the effective use of thermal energy in the systems and thermoelectric energy harvesting.
Phonons, which play an important role in heat conductions in solids, are difficult to control due to their strong diffusive nature. Therefore, a solid-state thermal control technology leaves more room for the development compared to photonics and electronics.
In recent years, the use of nanostructures enables artificial control of thermal conductivity and heat flow that are originally derived from materials. We have been exploring the field of phonon engineering and developing the new thermal control technology.
Through the industry-academia collaboration of JST Strategic Basic Program and JST MIRAI Program, we are conducting research aiming to contribute to a sustainable energy society and "Smart Society". Developing high-efficiency silicon thermoelectric devices and energy-autonomous sensing devices, using a thermoelectric energy harvesting are expected to be an important part of achieving these goals.
We are also working on the development of phonon systems as interfaces between the computational solid-state quantum layer and the communications layer provided by lasers in quantum networks that are expected to grow in demand and in new devices developed in the coming decades.
Directional heat flux generation and heat focusing in solid by nanostructuring
Development of silicon thermoelectric devices and a monitoring system by industry-academia collaboration
Award
2004 EMS Award(23rd Electronic Materials Symposium)
2006 Incentive Award, 1st IEICE Electronics Society Laser and Quantum Electronics Workshop
2006 The Japan Society of Applied Physics (JSAP) Incentive Award
2007 First Place Award (Photonic and Electromagnetic Crystal Structure VII)
2010 Poster Award, Science Council of Japan ICO Subcommittee 2010
2012 Young Scientist Award in Science and Technology, Ministry of Education, Culture, Sports, Science and Technology
2015 Incentive Award, The Matzuda Foundation
2016 The Japan Society of Mechanical Engineers, Thermal Engineering Devision, Paper Award
2016 2016 Honoring, The Foundation for the Promotion of Industrial Science
2016 PCOS2016 Best Paper Award, The 28th Symposium on Phase Change Oriented Science
2017 Marubun Research Encouragement Awards, Marubun Research Promotion Foundation
2017 The Young Scientist Award, The 44th International Symposium on Compound Semiconductors (ISCS2017)
2018 German Innovation Award "Gottfried Wagener Prize 2018
2020 16th JSPS Prize
2020 Award for Best Review Paper, 42nd JSAP Outstanding Paper Award 2020
Keywords
Phonon engineering, Thermoelectric energy harvesting, Integrated quantum electronics
Edudational Systems
Department of Electrical Engineering and Information Systems, Graduate school of Engineering
Department of Advanced Interdisciplinary Studies, Graduate school of Engineering
Related Articles