Researcher's Profile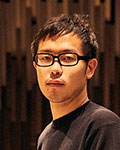 Project Associate Professor
Hideki YOSHIMOTO
Advanced Art Design
Advanced Art Design Laboratory
E-mail

yoshimotoaad.rcast.u-tokyo.ac.jp
Biography
| | |
| --- | --- |
| March 2010 | MS (Aeronautics and Astronautics), The University of Tokyo (UTokyo) |
| June 2015 | Cofounder, Tangent Design and Invention Ltd (UK) |
| July 2016 | PhD (Innovaion Design Engieering), Royal College of Art |
| April 2018 | Visiting Associate Professor in Art Science, Osaka University of Arts |
| November 2020 | Project Associate Professor, RCAST, UTokyo |
Research Interests
We approach to the point of contact between advanced technology and human life with various ideas to make it more delightful and comfortable. We are professionals in both of design and engineering, expanding scope to crafts and arts too, and rapidly make proofs of concept for the dream life of future.
Ongoing concrete research projects :
(1) Craft x Technology — We seek ways to combine the most advanced science and technology with crafts, especially Japanese traditional crafts, to expand the possibilities of them.
(2) Media that helps development of five senses — We design and develop advanced form of media which helps development of five senses and health of mind and body instead of occupying eyesights with screens.
(3) Art and technology that touches one's heart — Instead of using technology for its own sake, we create works in which technology and design keep a perfect balance and sublimated into arts that touches one's heart.
Globe-Trotter AERO Collection (Combination of the most advanced carbon technology and the brand's
INAHO (Interactive lighting installation that brings the scenery of rice paddy field with sennsor and digital controls)
Lexus Design Award Trophy (Collaboration of Kawatsura Urushi Lacquer with 800 years history and modern design)
Award
2009 IPA Mitou Youth Project 2009
2010 IPA Super Creator Certification
2010 Best Conference Award 2010 from Japanese Society Artificial Intelligence
2010 Funai Overseas Scholarship for PhD Study
2012 Red Dot Design Concept, Best of the Best Award
2012 output Award, Winner
2013 Lexus Design Award, Grand Prix
2016 Milano Design Award, Best Engagement by IED
Keywords
Design Engineering, Craft x Technology
Edudational Systems
Department of Advanced Interdisciplinary Studies, Graduate school of Engineering
Related Articles