Researcher's Profile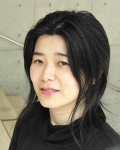 Project Associate Professor
Satsuki AYAYA
Tojisha-Kenkyu
E-mail

ayayamoonbfp.rcast.u-tokyo.ac.jp
URL

2023 Research Book (PDF:1.1MB)
Biography
| | |
| --- | --- |
| July 2007 | Independent Scholar on the Subject of Autism Spectrum Tojisha-Kenkyu (writing, Lectures, Conference Presentations, Media Presentations, Organaizing Tojisha-Kenkyu Meetings, etc.) |
| September 2012 | Project Researcher, RCAST, The University of Tokyo (UTokyo) |
| September 2014 | Part-Time Lecturer, Rikkyo University(2014~2016, 2018~2020) |
| March 2020 | PhD, Graduate School of Arts and Sciences, UTokyo |
| Aplil 2020 | Project Lecturer, RCAST, UTokyo |
| June 2023 | Project Associate Professor, RCAST, UTokyo |
Research Interests
Tojisha-Kenkyu is the practice in which many people with some difficulty such as disabilities and diseases study the difficulty of their own with the help of people with the same difficulty. The practice is unique to this country and was first carried out by people with schizophrenia, and gradually spread into people with various kinds of difficulty such as addiction patients and cerebral palsy.
In an approach called the "co-production", users (Tojisha) who were merely passive consumers for goods, services and knowledge, actively participate in the production process for those since the initial stage. This approach is about to spread around the world in recent years.
In an inclusive research environment, many people with different ability could demonstrate their full performance and pursue well-being by sharing their weakness through open dialogue. To construct such environment, we need to realize an organizational culture which is implemented not only with deep understanding of lived experience of minorities, but also with humbleness and psychological safety. This organizational culture should be implemented among minority-communities as well. We have developed a learning program to implement such culture using Tojisha-Kenkyu and provided minority-communities and laboratories with it through faculty development and outreach movement. The outcome is evaluated by qualitative analysis such as ethnography and ethnomethodology in addition to traditional quantitative methods.
Award
November 2019 73rd Mainichi Publishing Culture Award (Planning Division)
Keywords
Tojisha-Kenkyu, Self-help Group, Autism Spectrum, Social Model of Disability, Co-production of Research
Educational Systems
Department of Advanced Interdisciplinary Studies, Graduate school of Engineering
Related Articles